American Express announced this week that it will discontinue its exclusive agreement with the Costco Wholesale Club Stores, which have traditionally accepted only American Express credit cards in its stores. Costco is likely to enter into a new partnership agreement with another U.S. card issuer.
Lightspeed FSG behavioral tracking panel data shows that the American Express Costco credit card, long a strong performer in the American Express portfolio, averages nearly $1,500 in spending per month with a solid mix of in-store and out-of-store purchases.
The Lightspeed tracking data, based on actual card spend among U.S. consumers, shows that: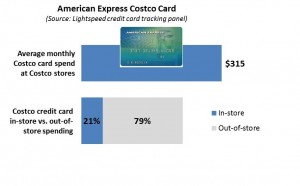 Costco credit cards are used for an average of 4 purchases at Costco stores each month, or about once a week. The average ticket size per purchase is about $79, accounting for more than $300 in Costco store spend each month.
In-store Costco purchases have accounted for roughly 21% of total spending on American Express Costco cards over the past year, an analysis of spending by retail category shows. The remaining 79% of card spending is at other merchants.
While American Express and Costco may not have been satisfied with their relationship, most cardholders express high levels of satisfaction with their Costco cards. Fully two-thirds (66%) of Costco cardholders said in a Lightspeed survey released last month they are "very satisfied" with their card, ranking the Costco card below only Discover More and Capital One Quicksilver within the cash-back space.