According to a January 2017 Pew Research report, the vast majority of Americans – 95% – now own a cellphone of some kind; the share of Americans that own smartphones rose to 77%, up from just 35% in Pew Research Center's first survey of smartphone ownership conducted just six years ago. And recently, MediaPost cited Cisco's Visual Networking Index (VNI) Global Mobile Data Traffic Forecast (2016 to 2021) which reported, "that by 2021, more members of the global population will use mobile phones -- 5.5 billion -- than have bank accounts at 5.4 billion, running water at 5.3 billion or landlines at 2.9 billion." There's no doubting that mobile is now mainstream, but online surveys still outrank mobile surveys in digital data collection methods according to the latest GRIT Report.
Smartphones are the most interconnected device in human history and now, consumers are more willing to share information directly through apps, email and text messaging. Another study by Pew Research Center found that sending notifications via text to consenting survey panel members improves response time (people take the survey sooner, on average) and boosts the share of respondents completing the survey on a mobile device.
So, why are we still not going mobile?
As researchers, we need to recognize that mobile should no longer be an emerging method for survey design, but the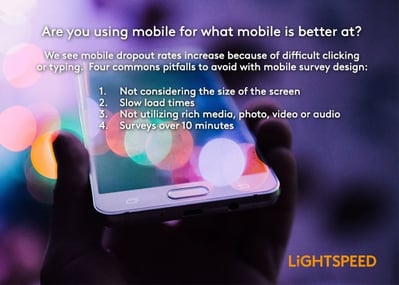 first and foremost method. Clients are continuing to demand 'bigger, faster, now!' but they also aren't considering the more holistic challenge. Survey drop-out rates continue to rise with every poorly written, non-mobile first survey they put in front of consumers, and unengaged consumers are affecting the quality of the data. Yet there seems to be widespread apathy in the industry to do anything about it.
We have access to the tools and technology needed to reach today's mobile consumer (Lightspeed even built an entire team tasked with studying and implementing the latest survey design techniques). At so many conferences and panels I've participated on, there is often nodding of heads and agreement on the need to go mobile, but I have a visual of everyone returning to their desks to sign-off on 40-minute, grid intensive surveys. If we aren't the change we hope to see, nothing will be different and our industry will be irrelevant.