Primarily due to restricted cash flow across households, Q4 2016 in India had a major impact on the local durables market. Demonetization not only impacted households, but also retailers and manufacturers. However, the PC market had its own story.

Is the Indian PC hardware market poised for a slowdown in the coming months? There are a lot of factors contributing to such a movement; demonetization was just a part of it. Going back a couple of years to 2014 and 2015, PCs were facing a similar trend but that was mostly due to a lack of innovation in product development. Desktops were already outdated and laptops needed a revival. Convertibles kicked in and PCs started to see a new lease of life in the market. PCs with screens that can be flipped by 360 degrees and also detachables (2-in-1's as we call it) became quite trendy. OEMs also put in a lot of effort into strategy to increase the affordability of machines in order to reach the masses. This was a desperate move as PCs had a penetration of only 10% in the country, majority of which lied in Tier 1 & 2 cities (according to Government of India's Census 2011).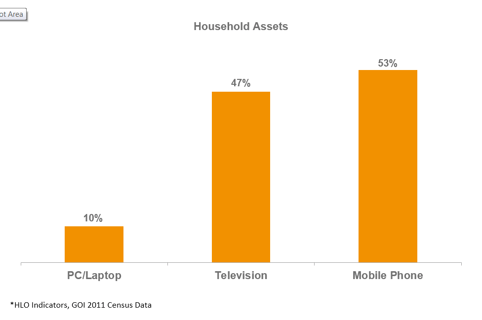 Besides this, PCs have also been at battling for their purpose of existence in comparison to other devices like tablets and smartphones. Tablets, as we all know, became easily accepted, but that trend then tailed off. Larger screen sizes on smartphones took their place simply because they are like a replica of a tablet, even televisions had a penetration of 47%.
A PC is a computing device that has different functions that would be hard to replace by a smartphone or tablet. These devices offer those unique propositions which other devices can't. Can we draft a complex proposal or presentation, or can we run complex spreadsheets on smartphones? I think not.
According to our India panel profiling data, 80% of the individuals are owners of laptop while only 59% have smartphones.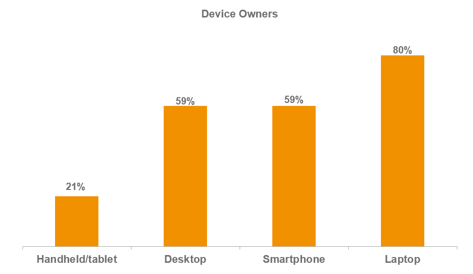 The socio economic classification (SEC) is like the census for advertisers in India and is used to classify and target consumers based on certain parameters. The SEC system is used to classify households in India based on two variables:
Education of chief earner
Number of "consumer durables" (from a pre-defined list) owned by household. The list has 11 items, ranging from 'Electricity connection' and 'agricultural land' to cars and air conditioners
According to Lightspeed's survey, 50% of Indian consumers use PCs to check their emails while only 25% use them for online shopping.
We can shop online, chat with friends, take video calls, run presentations, watch videos, browse the internet and perform other activities on the go using our mobile devices. You may well be reading this from your mobile device now; however, when it comes to complex tasks PCs are our friends.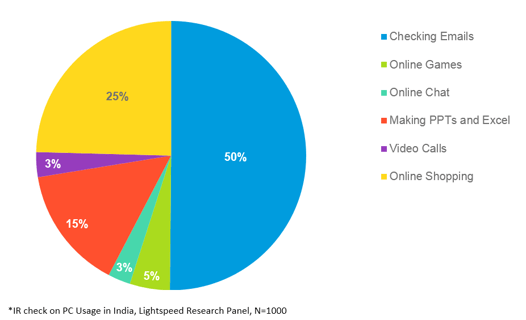 So what are the factors responsible for the slowdown of the Indian hardware market in this digital era where everyone is talking about cloud computing and IOT? At the end of day, our digital ecosystem needs hardware in cognition with software. PCs are being used as a consumption device in India, but what is lacking is the reach of these devices. In a country where Mobile phones have a penetration of almost 50% (as per Census 2011 numbers), PCs are still lacking. To make these affordable, web books have been re-evolved. Indian organizations like Micromax & iBall have recently come up with small screen devices and have placed themselves in direct competition with the big players like Dell & HP, but still they are not able to gain ground like Apple and other smartphone suppliers did.
As part of the Digital India campaign with an objective of connecting rural India and improving digital literacy, governments across different states have launched campaigns like free laptop distribution to students to promote digitization in India. OEMs have great expectations from Digital India & Make in India campaigns and it will be interesting to see how Government funding unfold in coming times to support IT landscape in the country.