After an initial burst of interest in mobile 'location' services, the hubris died down a little. However, there has been renewed interest in location, once again, as technology has made some strides to catch up with the expectations of the marketing research industry.
Location is seen as a piece of the puzzle within the 'Path-to-Purchase' process to help understand how consumers react within the store and what might impact them at the point of sale. Simply, where do they finally make the purchase?
Marry this information with behavioural data and you have a powerful analysis of how a consumer goes from interest through research to final purchase.
How do consumers react to location services?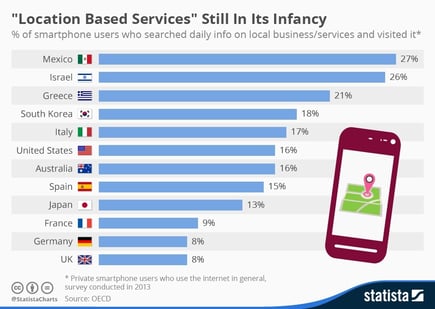 A recent chart produced by Statista indicates users are slow to use location services. There are those that use Maps; however, there are few that use other apps to help access the abundance of information available through location services.
Where does that leave us?
At the moment, the industry as a whole has three ways of accessing location information of users:
Trigger
Respondent goes about their normal routines, is logged into a survey app, once they pass through a set up GEO-FENCE then a survey is displayed to the respondent
Post validation
Respondent is logged into their survey app which captures various places that they visit, after a few hours the location information is checked to see if the respondent entered any of the GEO-FENCES available. If yes, then a survey is displayed to the respondent
Mission
App will tell a respondent to go to a certain type of store (i.e., supermarket, chemist, etc.). Once there the survey app will validate their location and then serve up a survey based on their location
All of these have different benefits and success criteria – they can be used in different scenarios. Triggering seems to be the way most people think about using location services for research, but we have seen that getting respondents to do this type of survey is very difficult and we have seen problems reaching our intended audience. Privacy and unfamiliarity with the approach are the most common causes for lack of response. As always, we need to keep the respondent in mind.
The new interaction methods, post-validation and mission, can help us reach more people but we still struggle to reach enough and there are still privacy and security concerns to address. From a respondents' point of view, they are still struggling to engage with the process and thus it makes location a stuttering service.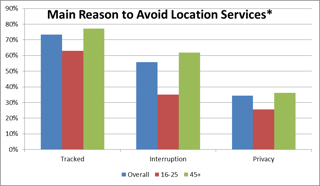 *Based on 2000 UK MySurvey Panel respondents – August 2015
As previously seen, the feeling of being 'tracked' and being interrupted are still high on the list for respondents on why they might like to do this. Privacy also rears its head as well. For location to work we need the respondent to be willing. With limited respondents available, we need to make sure that each new experience is positive, so we don't alienate them.
Location is exciting. Although it is not new, there is still potential if we can get the respondents to be interested. The value that location can add not only to our surveys but also the information gained will be highly valuable to our clients. The way to make the most of location is:
To allay the fears of our respondents

Potentially use one of the other methods (i.e., mission)

Think small and gain some experience