Six Months After Apple Pay Launch, How Should Banks, Retailers, and Agencies Evaluate Apple Pay, Google Wallet and Samsung
A new Lightspeed FSG study shows an uptick in frequency of Apple Pay use for in-store purchases -- but security concerns and a general lack of interest has slowed adoption of Apple Pay and other eWallet platforms.
Among current Apple Pay users, fully 17% said in the new July 2015 study they use Apple Pay more than 10 times a month for in-store purchases -- up from just 7% in November 2014.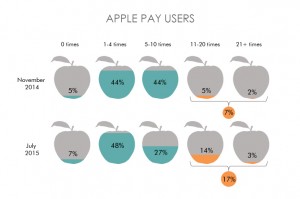 At the same time, there has been dramatically little growth in the percent of top bank customers adopting Apple Pay since its launch last fall -- and even as Samsung Pay prepares to launch this Fall, interest in adopting mobile payments has stalled.
Only 25% of consumers who currently own a smartphone say they are interested in paying for things at stores using their mobile phone, slightly below the figure seen last November (27%).
Even as smart phone adoption proliferates, the biggest barriers to eWallets today are persistent concerns about security and -- with respect to Apple Pay -- a large segment of consumers who see no need to acquire an iPhone to make payments.
Significant numbers of consumers say in the Lightspeed survey they are nervous about security or have not yet been convinced that an eWallet will make their lives easier. Even among today's smart phone generation -- consumers under age 35 -- only 27% say they are confident in the security of mobile payments. Other highlights from this new study are:
Which incentives will be most effective in helping banks and card issuers motivate eWallet users to switch their default card in Google Wallet or Apple Pay?
What are the top factors motivating consumers likely to consider eWallet adoption over the next year?