We understand that changing a tracker can be a daunting prospect, but with more than 50% of panellists now registering via tablets and smartphones, it is essential that trackers are designed for today's technology. By excluding or limiting mobile and tablet responders, you could be missing out on the full scope of your target audience and their valuable insights. Here are simple, but game changing tactics that we recommend when reviewing your tracker.
DESIGN: Aesthetic appeal is a big factor and updating this can be a gradual undertake, but doing so is highly impactful. Not only should surveys be mobile compatible, they should be designed with features that are smartphone and tablet friendly, such as a drag and drop rather than a small, hard to pinpoint button. Designing your survey, tracker or not, to be engaging is crucial in capturing an on-the-go audience with short attention spans, limited time windows, and a tendency to be drawn between a variety of screens or activities at once.
WORDING: The way in which a question is asked can impact the resulting data. A simple place to start is at the question itself. Less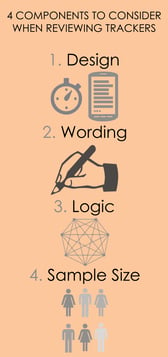 can be more; think about the way a question is positioned from a respondent's perspective and what is expected of them. Make it concise so the respondents can see the actual space to answer without having to scroll or lose the will to live by reading five lines of arduous text. Thinking like a respondent is key; address panellists with everyday language so they want to be open in their response.
SURVEY LOGIC: Having disjointed survey logic can be the number one cause of increasing interview length. It can also cause substantial dropouts by frustrating respondents. Test, test and test again. Try to avoid asking the same question in different wording, as this will only frustrate the panellist.
SAMPLE SIZE: It is tempting to keep trackers the same as they've always been. However, having a large sample size simply for consistency might cloud a clear insight that can be drawn from a smaller audience; it could be the same insight but provides less of a chance to miss it while being easier to obtain. The reality is that a well designed survey or tracker may help you reduce your sample size. Think about this before opting not to adapt and you might save time, money and glean greater knowledge than you were able to before.
To recap, think like a respondent. The most convenient method to take a survey for many is on a smartphone or tablet. Design for ease of use and reading on these devices and reduce redundant questions to keep respondents engaged. By simplifying your survey to make them more enjoyable, you can potentially reduce your sample size while obtaining the same insights to save time and money.
RESEARCH TODAY REQUIRES MEETING CONSUMERS ON THEIR DEVICES.