Privacy and security of data make the news on a constant basis - the risks and the exposure to bad data security is a threat to brands and consumers. International laws are constantly updated or created to make sure privacy and data security cover the evolving needs of today's consumers.
Consumers have so much data and now they are starting to understand the value of that data to marketers and market research companies. As consumers become more aware of this value, they are more reluctant to hand over their information without proper security measures in place.
Although our respondents might not be up to date on all this new privacy legislation doesn't mean that we can be lax. Privacy is still one of the main reasons why respondents are 'afraid' to provide us with some of their more interesting data. And with all the news around security breaches in this area constantly hitting the headlines, who can blame them? Fear is overriding caution.
Across the market research industry, we need to address the right issues at the right time; as a panel company we need to be active in the area of consent. Consent is divided into two main areas both of which form the basis of informed consent: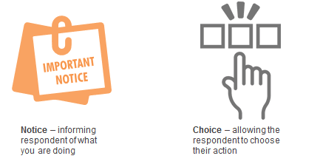 Notice – we need to provide our respondents with the information they need in order to make an informed decision
Choice – we need to provide our respondents with the options so they can choose what they wish to do without bias or concern
In the EU, there are changes underway and recent statements from General Data Protection Regulation (GDPR) say that 'silence, pre-ticked boxes or inactivity, however, is presumed inadequate to confer consent' and GDPR requires the data subject to signal agreement by 'a statement or a clear affirmative action.'
A Change in How the Industry Thinks about Consent
In a recent project, we looked at consent and the potential driving factors around it. With consent being such an important component of obtaining new data, we investigated what might impact respondents' willingness to provide consent. The study compared US and Brazilian respondents and asked their consent for both video and location information.
The chart below summaries the information received.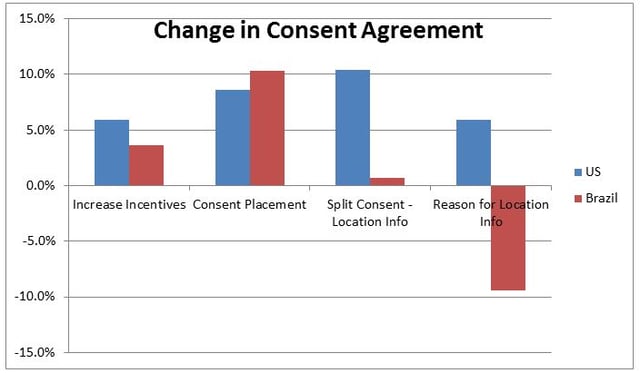 Respondents now realise the value of their data. As we see a greater need to reward for basic surveys, we also see a greater need to provide extra reward for new data or for new question types that capture sensitive data. The results were mixed.
How can we boost consent?
Provide a reason for requiring the data and how it might be used – if you don't know why you need, why ask for it
Be clear with your wording – type of data needed; have it legally reviewed
Ask consent near the relevant question – create a link between the consent and the data
Potentially provide a higher incentive for special data (or data that requires more effort) – this might be cheaper than needing more sample
Allow respondents who do not consent to bypass the task so you don't lose the respondent completely from the study
Failing to Keep Consent Up to Date Could Cause High Penalties
In order to make greatest use of the limited respondents we have, we need to make sure we do everything we can to gain consent from them. Using the above ideas can help push the level of compliance from our respondent high enough that it might mean no additional supplier or fewer sample.
In the long run, it will also build trust and trust will build loyalty - loyalty to the marketing research industry. Respondents will then allow us to use their data more freely. In the end this can only be a win-win situation.