Our Lightspeed Financial Services Group series continues with another look at credit cards. Consumers prefer a stable rate when it comes to rewards programs, but what do people feel about signing up for a new card all together? In our latest post, we learn what appeals to new card holders.
62% of new cardholders say applying for their new cards didn't impact the usage of other cards in their wallets – but 38% did cancel or stop using another card, according to Lightspeed FSG's 2017 New Card Acquisition Study.
Canceling or ending usage of older cards was most pronounced among consumers who opened Citi cards (50%) and least likely to occur among those who opened Chase cards (35%). About one in five new Citi cardholders who replaced a card say it was from American Express, likely reflecting the Costco card conversion that occurred in 2016.
The top reasons why new cardholders closed or stopped using another credit card are because they disliked the rewards on the old card (24%) or did not like the APR (20%).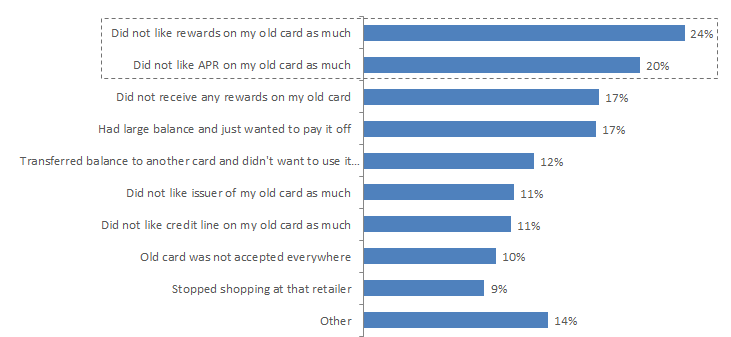 New Chase cardholders are most likely to have replaced a card for better rewards (37%), while Discover benefitted most from cardholders looking for a better APR (37%). One in five new Bank of America cardholders closed or stopped using a card because they transferred a balance and didn't want to use the card anymore. 17% of new American Express cardholders closed or stopped using an older card because they didn't like the credit line as much.