Marketing research blends its rich history of data collection with technology-driven methodologies. The ultimate industry goal? To listen and to learn; to create a 'story' for our consumers.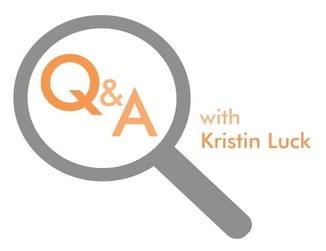 Stories create structure for understanding our world and ourselves. Kristin Luck's story is unique. With a reputation for innovation, she is recognized as one of the pioneers of multi-media online research. Navigating through a male-dominated industry; Kristin launched Women in Research (WIRe) in 2007. In our two-part series, we talk with Kristin about WIRe, the future of marketing research and her thoughts on gender equality.
Part One: WIRe
Question: What initially inspired you to launch WIRe?
Answer: I originally launched Women in Research (WIRe) in 2007 as a way for women in the industry to informally meet and collaborate. I noticed that in the early years of my career, I worked almost exclusively with women. As I progressed into more senior management positions, I began working almost exclusively with men. That's a real issue since it means there's a lack of women's voices, ideas and contributions in senior management which will ultimately impact the future of our industry. There are 3.4 billion females in the world and women now outnumber men in most of the developed world according to Geohive. Women play a more important role than ever in our growing global economy, with 85% of all brand purchases today made by women. Yet, incredibly, only 3% of advertising agency creative directors are women. The future of successful brands (and indeed, of successful research) is female informed. Women are key drivers of economic success; both in the board room (female led companies are 15% more likely to be profitable) and in the home but routinely remain an afterthought to both marketers and researchers. Although women provide the muscle behind more than half of all research conducted today, less than 10% of the Honomichl 25 largest research firms have a woman at the helm. I believe that women burn with the same ambition that men do to change the world and build successful businesses and I see more and more of my female counterparts striking out to do just that – but we still have work to do.
Any researcher can see, from these statistics alone, that brands, agencies and research suppliers are missing out when women don't have a seat at the table.
Since its inception in 2007, WIRe's evolved to a network of more than 4,000 women around the globe, focused on career development, education and one to one mentoring – it's really about creating more opportunities for women to step into senior management roles and have an equal voice in marketing research, which is paramount not just to client success, but to the future of our industry.
Question: Since its founding in 2007, what do you see as WIRe's biggest accomplishment?
Answer: In 2012 WIRe launched the industry's only one to one mentoring program for women in research and we are just starting to see the positive impact of that program – from promotions to speaking invitations, the next generation of female researchers is really starting to make their mark.
More than anything I'm proud that we're seeing measurable change. This year WIRe partnered with NGMR to encourage more female driven submissions for their annual Disruptive Innovation awards. In 2014, there were no female driven submissions or nominations. And as a result, there were no female winners. In 2015, WIRe actively encouraged women to submit for the awards. A whopping 58% of the submissions came from women! That's zero to 58% in just one year.
Whether it's getting more female speakers on stage or conducting research on the state of women in our industry, WIRe has called attention to the diversity challenges in our business. Awareness creates opportunities for change.
Question: We were excited that one of our employees, Sally Udaya-Kumar, had the opportunity to participate in a panel discussion at a recent WIRe event to talk about her experiences in MR, and about choosing MR as her career path. What would you say to encourage women who are 'rising stars' in our industry?
Answer: It's important to find your "tribe" early on. By that I mean, surround yourself with people that encourage and inspire you. Experimenting or questioning the status quo can be incredibly isolating so you want to have people in your camp that are pushing you forward, not holding you back.
Above all, SPEAK UP! I believe we're the most effective when we advocate for what we believe and I think that's been the key to my success. Also, don't shy away from experimenting and develop at least a little tolerance for failure. Trial and error helps you figure out what you're good at doing, what you really love doing.