It's always risky to host Saturday Night Live (SNL); not everyone can do "funny." For most politicians, spoofing pop culture with outrageous punchlines falls outside their wheelhouse. Add to this the broader reality of dropping poll numbers and a generally regarded unremarkable CNBC GOP debate recently, Donald Trump's November 7th SNL hosting gig has a lot riding on it.
What can the Trump brand do to capitalize on this opportunity? The more you know your audience and can anticipate their reactions, the better skilled you will be at crafting the best laughs. As part of Lightspeed GMI's Election in Context project, we've pulled out some details that might help Trump make the most of this opportunity. First, how can the Trump campaign make sure the content of what he talks about appeals to both SNL and Trump fans? Using our Context Share of Mind report, we can see what categories are of most interest to any fan group. In comparing fans of Trump vs. fans of SNL, we found that in over 50% of categories, Trump and SNL fans have statistically identical levels of interest: There were 18 related interest categories*. If Trump based his SNL skits around these topics, the clusters to focus on would include:
Family/Home (Baby/Kids, Children/Family, Household Goods, Animals/Pet)

Entertainment/Entertainers (Arts/Entertainment, Actor/Entertainment, Author/Book)

Food/Drink (Restaurant/Bar, Food/Beverage)
Looking at an audience profiler report on fans of both
Trump
and
SNL
, we can see that Entertainment/Entertainer pages represent about 12% of total likes. We thought it'd be fun to explore possible caricatures based on the likes in that category. Compared to general Facebook users, the unique population who've liked
both
Trump and SNL on Facebook are 43 times more likely to have liked Donald Trump, 27 times more likely to have liked Ivanka Trump, 15 times more likely to have liked Richard Branson and 10 times more likely to have liked both Demi Moore and Heidi Klum.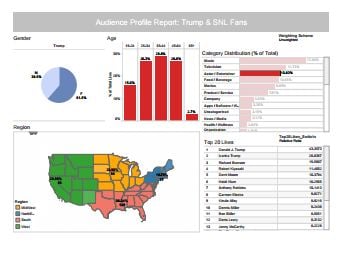 Another heavy area of importance is Food/Beverage and Restaurant/Bar (represents about 12% of total likes). Compared to general Facebook users, those who've liked both Trump and SNL, are
5 times more likely to have liked Wild Turkey and Cheetos
3 times more likely to have liked Five Guys, Red Robin and Sonic
If the Trump brand leveraged these insights to create content tailored for their intended audience, the next logical question would be "how and where do I advertise this upcoming event?"
*The 18 categories are: Automobile/Transportation; Baby/Kids; Science/Technology; Company; Education; Sports/Athletes; Household Goods; Children/Family; Animals/Pets; Restaurant/Bar; Other; Clothing and Accessories; Arts/Entertainment; Actor/Entertainer; Personal; Food/ Beverage; Community; Author/Book
NEED HELP ACTIVATING YOUR AUDIENCE?