Over recent years technology has changed what the marketing research industry is as well as what it does. Because of this, agile research has become increasingly popular for researchers and clients who need on-demand data and broader insights. With the onset of technology and data analytics companies, we have found opportunities to couple third party data with panel survey results. Clients began asking us to make it easier to combine survey responses with other types of data to better understand their targets. Given we have more than 200 profile attributes stored for sampling and or appending, clients were eager for us to add second and third party marketing data that provided broader perspective. This has also allowed clients to shorten surveys and make them more engaging. The results have provided our clients deeper insights and better data quality.
To meet our client's demands, in 2014 we launched a product that delivered social data to clients called Context. It captured panelist's Facebook likes and stored those as a profile attributes ready to be used for targeting and/or appending. With Facebook quickly gaining popularity as an ad serving tool, this was a critical first step in linking panel to targeting data. And in 2015, with the U.S. election approaching, we used the same method to bring political data in house for targeting and appending.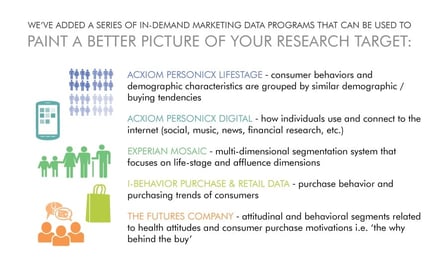 For clients looking to shorten surveys, our new AmplifyR product offers a way to enrich findings without relying on survey responses. The Futures Company MindBase and Living Well, Experian Mosaic, I-Behavior Retail Purchase Data and Acxiom Personicx all offer unique approaches to clients looking to efficiently identify, reach and engage their target market.
By adding these to our standard profile attributes, clients can enhance survey targeting or add to amplify their research findings. Resulting research is more actionable and inclusive. By appending segments already used for direct marketing, corporate research and marketing can speak a more common language.
Instantaneous efficiencies can be gained by existing users of any of our AmplifyR Append marketing data, now making surveying specific segments or groups as simple as targeting by demographics.
With many concerned about data growing at a faster rate than market researchers are able to use it, and clients not only looking for insights but what to do as a result of those insights, Lightspeed GMI has tried to help. AmplifyR Appends is a simple and intuitive way to immediately tie target research into a broader target marketing context. Have fun with it!