Mobile diary panels consist of respondents documenting their behavior patterns in real time – they tell us what they eat, who they talk to, where they shop, what they buy and how many times. You can leverage these projects to assess brand loyalty, test product strategies and evaluate customer demographics.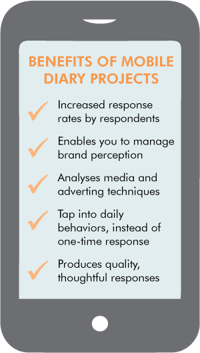 To ensure your respondents are successfully logging accurate behaviors, the topic of your mobile diary project should be relevant to your respondents, not just your clients. More importantly, it should be simple and short. Eye-catching (i.e., fancy or pretty) question types make the survey interesting to look at, but when it is taken multiple times (in a diary study), it loses its luster. Keeping it simple and short (KISS) makes it easier for respondents to partake quickly.
When it comes to fielding a mobile diary project, there are a couple of approaches:
Recruit respondents to take part
Use a panel provider that has members available to participate in the studies
When the participants have been recruited, some of the options to contact them include:
Emails – standard way to reach out to the respondents
SMS – higher success rate of getting message across to the respondent, at the time intended
Push notifications (via apps) – again, high success rates of getting the message across to the respondent, plus cost effective
Make the experience personalized from start to finish
Convenience is on our side, but we have to be mindful of the respondents' preferences and privacy. With SMS and Push notifications, caution should be taken to make sure we are not intruding into personal space. A respondent should not be contacted at inappropriate hours, nor should they be over-contacted with multiple requests.
If conducting the mobile diary project via mobile web browser, use a short, easy-to-remember URL to help respondents recall the survey link for subsequent entries. This makes it easy for respondents to type directly into a mobile web browser, even without referring to the email/SMS/Push notifications to find the survey link. Even more so when periodic reminders are used, always cater to respondents' preferences.
Let respondents drive their own participation
The duration of fieldwork and the frequency of entries needed will depend on your research objectives; however, it is ideal to let respondents determine how many entries they want to enter, rather than dictating the minimum number of entries required. Generally, the drop-out rate across the days (in the diary fieldwork) will increase, so factoring in more samples in the initial stage will result in reaching the desired sample sizes. In addition, it is important to stress the relevance of the study topic to the respondents since it will help with having more engaged respondents, leading to more entries being filled in.
Short, sweet, relevant and catchy is the way to mobile research.