What does personal loan usage look like among your customer segments or within your footprint? In the latest Lightspeed Financial Services Group post, we look at consumer trends across secured and unsecured loans.
As of Q4 2016, 7% of U.S. consumers have an unsecured personal loan, according to Lightspeed's tracking panel. 12% of consumers with risk scores below 660 or between 660 and 719 have personal loans; ownership is lower among those with scores of 720 and up (just 4%).
The average personal loan balance is $8,611. Loan balances average $6,220 for those with risk scores under 660, while they average over $10,000 for those with higher risk scores.
Over the past several years, unsecured personal loan ownership has increased from 4.7% to 7.1% overall (blue line). While all risk score segments have seen an uptick in owning personal loans, the increase is far more pronounced among those with scores under 660 and between 660 and 719 – both have seen an increase of about five percentage points between Q4 of 2011 and Q4 of 2016.
Trend in unsecured personal loan ownership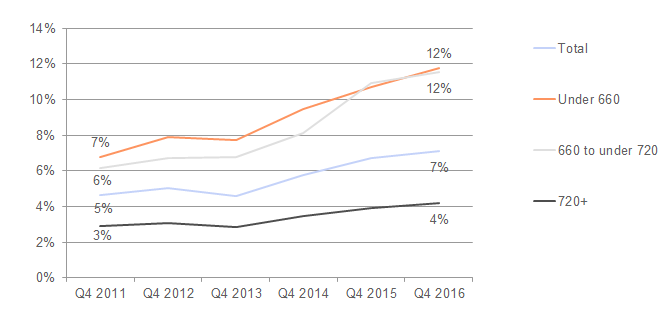 While personal loan ownership is trending up, average loan balances have also increased over time.
Consumers with scores in the 660-719 range have the highest observed increase in loan balances with a 40% jump between Q4 2011 and Q4 2016.
Trend in unsecured personal loan balances