Chinese New Year (CNY), also known as the Spring Festival in Mainland China, has been celebrated for thousands of years.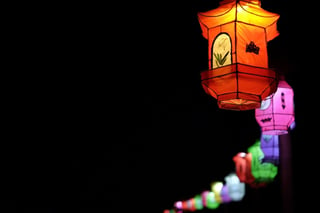 Traditional Chinese customs are observed with this holiday, such as giving red pockets, family gatherings and reunion parties and gift giving. Many argue that these customs and behaviors cannot be easily influenced or replaced by external factors. However, China is a fast adopting culture increasingly driven by the latest technologies. With this in mind, Lightspeed ran a short survey following the 2017 CNY holiday amongst 1,024 of its panelists in China, to understand how and if new technologies have changed the way people celebrate today.
RED POCKET
Red Pocket (also known as Hongbao, Laise or Yasuiqian) is the tradition of placing money inside a small red envelope to bring good luck and fortune in the coming new year. This custom is traditionally given hand-to-hand when people meet and greet during CNY. However, with instant communication tools on the rise, such as WeChat and QQ that have built-in money transfer functionality, apps have become the most popular way to give and receive Red Pockets. Survey results indicate that 36% of Lightspeed's respondents feel this custom has changed the most in recent years.
GREETINGS & COMMUNICATIONS
Greetings between family and friends are another important tradition during CNY, but technological advancements have caused a shift in the way in which we interact. Now, you can use WeChat to communicate with friends/families from a distance, or in the foreseeable future use virtual reality to act as if you are within the same environment to celebrate. More than 20% of respondents considered the method and approach of family and friend communication has been changed during the recent CNYs, compared to previous years.
For those unable to travel during CNY, greetings were traditionally done through telephone and SMS. Gone are the days where more than 31.1 billion SMS were sent during 2013 CNY period, according to the National Ministry of Industry and information technology. This caused the delay of delivery and crashed the system of telecom service providers. Now the burden has switched to internet service providers and instant communication tools providers to handle the large and ever-increasing bandwidth needed during CNY. Survey results indicate that 23% of respondents rated communications as the main attribute that has changed during CNY through new technology.
NIANHUO
Purchasing Nianhuo (items needed for CNY, including those for gifting) is also considered one of the most changed customs in CNY according to our latest research. In the past, people would usually go to department stores, shopping centers, super/hypermarkets to make such purchases, and nowadays it is totally subverted. According to China E-commerce research center's statistics, in 2016 more than 500 million people (greater than 1/3 of total population in China) purchased through Internet/ecommerce websites in China, the same applies for the shopping needed during CNY. Moreover, as the world No. 1 online retail market, China's total online sales in 2016 reached more than 500,000,000 Million RMB According to National Bureau of Statistics of China. It has more than doubled within the last five years. As expected, online purchasing in more rural areas, especially middle and western region of China and tier 3-5 cities has surpassed the average growth nationally.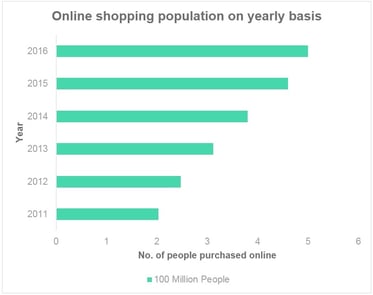 TRAVEL
Traditionally, family gatherings and reunions are always a core theme of CNY; people spend tremendous effort to be home regardless of distance, cost or effort required. Even just a few years ago, the scenes of people queueing outside train stations or calling agents (countlessly) to book their tickets home is still fresh in many peoples' memory. However, with the internet boom in the past few years, many people are now using various channels to plan their journey home through technologies.
According to data from Qunaer, one of the most popular trip planning methods in China is now mobileapps; 64.6% of total train tickets were sold via the internet or mobile during CNY of 2017. Moreover, in excess of 150 million tickets were sold through various mobile apps, which accounted for 39% of the total tickets sold.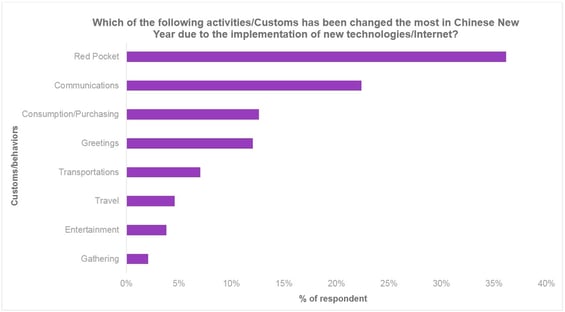 POSITIVE IMPACT OR DETRACTING RESULT?
Overall, emerging technologies have significant impact on several customs of the Chinenese New Year. Do people actually think these changes are positive in terms of social impact? Do these changes in social shifts make CNY more brilliant or is it detracting off its original meaning?
Feedback from Lightspeed panelist shows that 40% of people agreed that these changes are positive and make CNY more fabulous and meaningful; on the contrary, 25% of respondents reported that these changes are negative and may have caused a loss in original CNY meaning.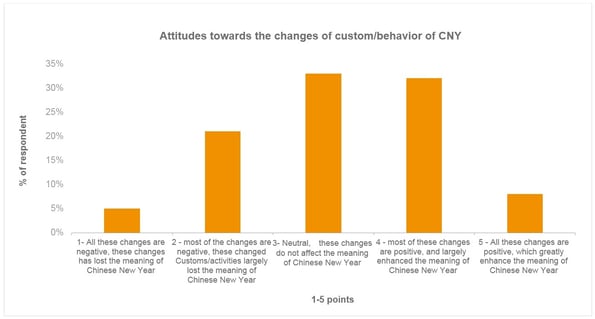 This post only briefly touches on how technologies have changed some customs during Chinese New Year. Further research could be done to investigate the social impact of these changes, from a psychological and social impact standpoint and the direction this festival may go in given the ever increasingly impact of technology on our lives, as well as how companies operating in China can pre-empt these changes.