As we know from part 3 of our Marketing Data Integration series, there's an abundance of data available to marketers, from first-party, to second-party, to third-party. We know we can collect it from a variety of sources and connect these data for a more holistic view of our target customers. What we haven't discussed yet is the integrity and quality of the mass data at our researching fingertips, or the importance data validation plays in the GDPR world we now live and work in. While only live for a few short months, the guidelines implemented by GDPR have had a significant impact on the digital advertising, consumer insights, and market research industries.
In this post, we will explore how to (1) ensure that these data we rely on are sourced in ways that respect our research panelists, (2) are compliant with new governmental and industry regulations and (3) are provided to us in a thoughtful manner from real people. In our next post, we will explore how these data can be used to validate audience targeting datasets and other types of modeled or inferred data.
DATA INTEGRITY
Whatever kind of data you're looking to collect, whether it be double-opt-in panel, third-party behavioral data or scaled audience for media targeting, transparency is key. It's how we build trust with consumers (and respondents) and it's how we support the validity of the work we do as researchers. A big part of that means responsibly-sourced data.
So as both a client and researcher, what are some of the questions you should be asking to ensure the data sources being used for your business decisions are validated?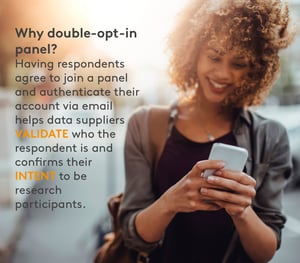 Have research participants given consent? Its best practice for a panel company to declare up front and prior to accepting a new member into a research panel that they are a research company. Double-opt-in panelist should agree to become a research subject. This disclosure and honesty of intent to conduct research puts providers and researchers in a low risk, desirable, and advantageous position with respect to GDPR regulations.
Are all outside sources GDPR compliant? When a supplier purchases research subjects from a partner to supplement and blend with their own double-opt-in panel, they should have legal agreements in place requiring partners to represent and warrant their compliance with the GDPR regulations. In other words, the supplier should syndicate the responsibility of GDPR compliance before purchasing supplementary participants. The same goes for any third-party data source.
How do you know consumers are who they say they are? Data suppliers should have a series of checks and best practices in place to ensure a standard of data quality. This can include IP verification, data matching, and removing over reporters before they enter a survey.
DATA QUALITY
While transparency and integrity is incredibly important when looking at data validation, it's only one-half of the equation. High-quality data sources should play an equal role when evaluating the validity of data. Below are some of the ways Kantar addresses the quality of our double-opt-in panel:
IP Verification: The IP address of a new panelist is checked to confirm where they are located and against a known list of fraudulent servers
Identity Validation: We confirm who is joining the panel by matching personally identifying information to various financial or social network databases
Honesty Detector: Our patented statistical approach to eliminating over reporters from your surveys
Survey Health Score: Our proprietary metric that delivers you better data as a result of higher consumer engagement
Always think respondent first, and that's not exclusive to survey design. Data integrity means transparency and disclosure. They are the touchstones for improving quality while meeting the GDPR regulations. Techniques such as geo-location validation, identity validation, and survey response tests increase data quality. These techniques are permissible under the rules of GDPR when the data provider has declared up front research intent and panel members have agreed to become research subjects.