Do you remember when we used our mobile phones exclusively for actually speaking with other people? It may be difficult to remember, but I promise there once was a time in the not-too-distant past when that ubiquitous device we carry with us was not used for messaging, mapping, Tweeting, Snapping, shopping, posting, watching, gaming, or the other multitudes of tasks we now use our devices for. The utility and functionality of our mobile devices and the underlying ecosystem of mobile networks, apps and other services has dramatically increased the value we derive from our "phones".
Although we can't order an Uber to the airport through a survey-based research project, we have seen how innovation in platform connectivity and enrichment has increased the value of the research we are delivering to clients each day. In addition to the more obvious ways that data and connectivity increase the richness of our research and the speed with which we deliver, we now have more ways of making our deliverables actionable. Activating research-derived segments through programmatic advertising is a really good example of how clients can derive incremental value from the investment they're already making in survey-based research.
Admittedly, there is a lot to unpack in the phrase "activating research-derived segments through programmatic advertising". So what exactly do we mean? Simply put, we can now pinpoint a segment of interest through a survey (Segmenting), identify a scaled-up group of consumers online that are likely to be members of this segment (Connecting + Modelling) and then deliver messaging (ads) to these consumers online (Activating). Advertisers, of course, already use data such as behaviors and demographics for targeting, but activating against attitudes and motivations uncovered through survey research unlocks new opportunities for nuanced targeting and personalization.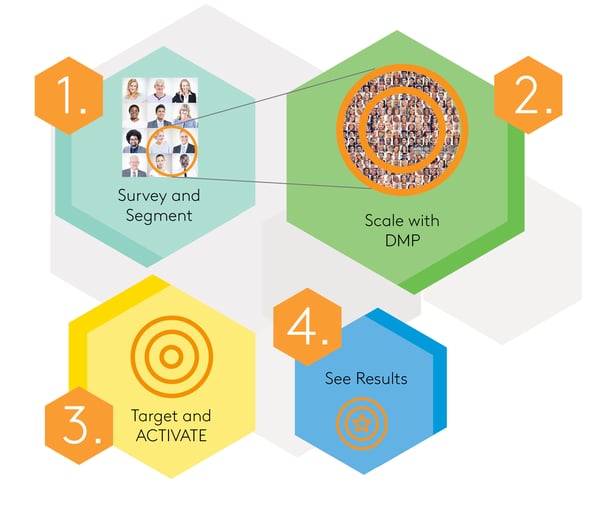 What are the advantages of this approach?
Breathe new life into existing segmentation or brand tracking research
Make research findings more actionable
Improve ROI for clients by opening up a new source of value (increases advertising effectiveness)
Open up new buyers and stakeholders for research projects
There is quite a bit that goes into making this process easy, effective and (most importantly) compliant. What are the necessary components to align in order to make this a reality?
Compliance: Ensuring that our respondents have given us proper permission for this specific use-case, and ensuring that the survey respondents themselves are not included in the resulting campaign
Connectivity: Linking in-segment respondents ("seed audience") to a data management platform (DMP) or similar database that contains a robust set of variables for look-a-like modelling and distribution into ad-buying platforms
Methodology: Carefully defining segments and modelling methodology in a way that leads to accurate and effective scaled audience
As research budgets are under increasing pressure, it is important to demonstrate that online research can be directly applied in new contexts such as media buying and ad targeting. Avoiding compliance, connectivity and methodological pitfalls comes with expertise and experience, but the rewards are great – just like all of the added functionality on our mobile devices!
This is part 4 of 6 in our Marketing Data Integration Series. Have you missed our other articles? Fear not! Take a look back now: