The world of marketing research is constantly evolving – new technologies enable consumers to move onto the 'next thing' seconds after engaging with a survey today. Given the fast pace of change with our industry now, ESOMAR initiated a "Research Rally" series to challenge researchers and expand their ways of thinking, and designing.
The notion behind the event was simple – researchers would collectively evaluate local start-ups looking to improve their business model, product or services. Currently Britain is experiencing start-up fever: 80 new businesses were born each hour throughout 2016. However, these rosy statistics are tainted by the fact that 9 out of 10 start-ups fail. In today's competitive marketplace, lucky guesses are no longer enough to create a successful innovation – the decision to invest in market research might determine a business' survival.
Leveraging a 'disruptive' business model, the UK Research Rally's winning team evaluated a start-up insurance broker, Insure a Thing (
http://insureathing.com)
. By challenging the existing norms in their industry and tackling customer pain-points around insurance products, the company saw early success with their primary target: high value bike owners. They aspired to expand their offer into items of high emotional and economic value.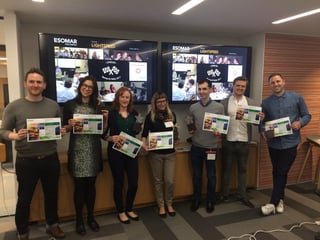 Our research objective was to explore alternative commercially viable options. We combined the skills of five researchers, including Join the Dots MR (Gavin Holt), Maru/edr (Stephanie Cohen and Antony Lakey), Deloitte Poland (Katarzyna Gawlik) and myself, to conduct research with speed as the core mission. Within eight hours we had managed to conduct desk research, completed a survey on the Lightspeed panel and also tested hypotheses in short qualitative interviews. Our findings confirmed our assumptions around customer challenges and we identified what triggers consumers to take out insurance products.
We found out that the bike insurance model can be viably replicated with other sports equipment or even with sewing machines. However from our research, one category that stood out, was photography. We're hoping that the insights gathered on the day help make the business, not only photo-ready, but will also help them to capture market share.
This 'fast and furious' research project proves the great adaptability and responsiveness of our industry. We have heaps of creative capacity; we can easily form impromptu teams and have a great knowledge-sharing culture. But even with these great traits and a well-established label, companies should keep a start-up mind set, so they stay at the forefront of innovation.
So, what can market research learn from start- ups?
Dream big, act bigger. All entrepreneurs have a dream but to make it a reality requires good planning and persistence.
Avoid overconfidence. We're naturally curious and the chase of knowledge is the essence of market research. However we should keep challenging what we already know and pursue deeper insights.
Carrot is better than the stick. Promote winning culture and focus on employees' intrinsic motivation.
Nurture talent. Hire the right people and make them feel engaged and valued.
Communication is a king. Make sure you have a good understanding of your clients' needs, be responsive and transparent about your work. Pay attentions to your employees and vendors to monitor the pulse of business.