The Lightspeed Financial Services Group (FSG) recently reported on consumer trends and reactions regarding data breaches, personal loans and credit card acquisitions, and we now turn to credit card comparison shopping. In our latest post, we explore how digital marketing is more important today in establishing awareness, but digital tools also make it easier for prospective cardholders to compare multiple cards.
Digital marketing is central to consumer awareness of new credit cards -- half of new cardholders heard about their new cards from an online source, according to Lightspeed FSG's 2018 New Card Acquisition Study. And among those consumers who heard about their new cards through an online ad, almost one in three saw those ads on social media.
But there's a downside for card marketers. New cardholders who learned about cards through a digital channel are more likely to have comparison shopped – and to have compared more cards – than those who heard about their cards via a mail offer, according to the Lightspeed survey of 5,000 consumers who just opened a new credit card.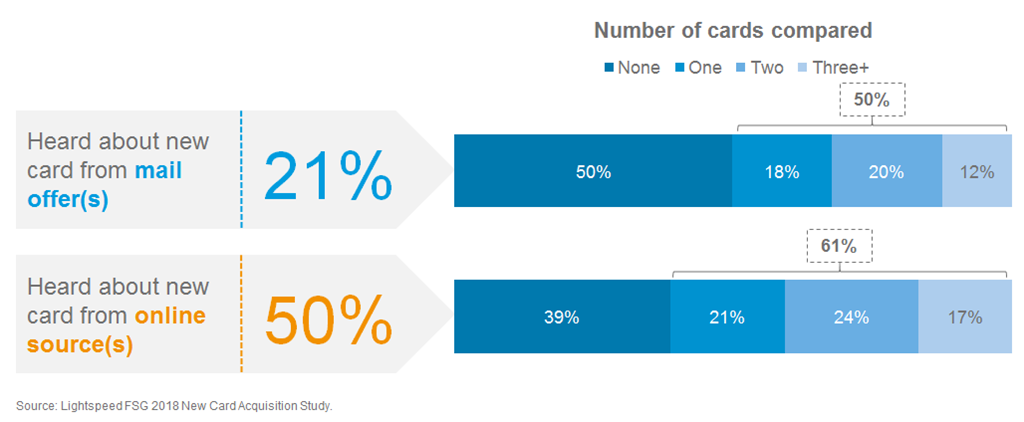 New cardholders who shopped around before applying were significantly more likely to end up with a card from American Express, Bank of America, Capital One, or Discover than those who did not do comparison research.
Capital One performed particularly well among comparison shoppers – 22% of those who shopped around opened a card from Capital One, compared to just 12% of those who did not comparison shop.
Between those who did vs. did not do any comparison shopping, both Chase and Citi fared about the same.
Further evidence of the impact of digital marketing: when asked about the sources trusted most for providing unbiased information about new credit cards, credit card comparison sites are trusted as much as friends or family members.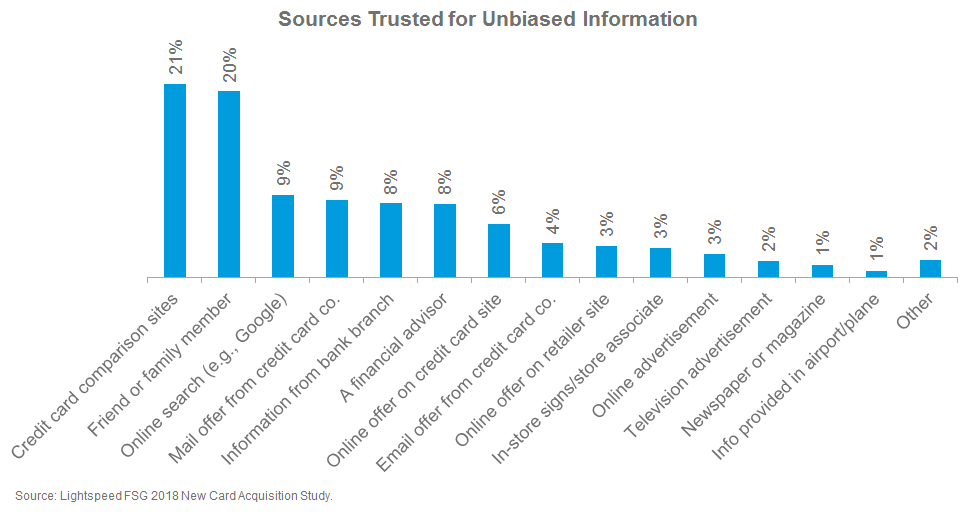 Digging down into the data, those who did not shop around before applying for their new cards are significantly more likely than comparison shoppers to say a friend of family member (22%) is their most trusted source of unbiased card information, while 18% trust credit card comparison sites the most, and 9% trust mail offers.
For those who did shop around before they applied, unbiased information is most likely to come from comparison sites (24%), followed by friends or family (19%) and online searches (10%).